In this book by Eve Bunting, a neighborhood riot leads to a fire that leaves a boy homeless. The boy is deeply concerned about his cat Jasmin, who is eventually found, and it sparks a meeting that could help to resolve tension in the neighborhood.
Rachel showed her primary concern was about the cat by naming him the main character of the book. Rioting was a hard concept to understand.
Main character: The cat named Jazzmen
Setting: The boy's house
Here's what happened: The roads were old and people did wrong things. They were rieiting! (rioting) And it was broken down.
My favorite part: When the firemen fond (found) Jazzmen.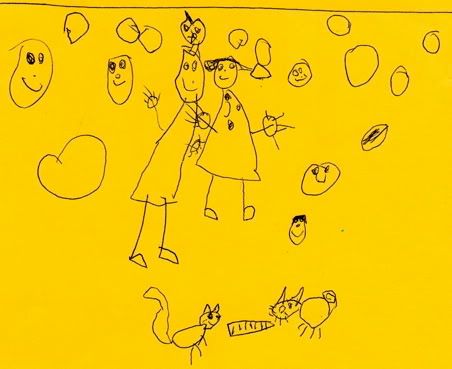 Audrey also got into the story once the cat took center stage. We enjoyed our storytime in the back yard with this book, and Audrey loved getting to go outside AND read AND eat a snack. Score.
Main character: the boy and the cat
Setting: the neighborhood
What happened: The boy got out of the house because there was a fire. Then he went to a special place that was safe. The cat stayed inside because he didn't know there was a fire. The fireman helped the cat.
My favorite part: The cats became friends.